issue du site de la WPDF:
Gympower Fanatics in Gymnastics
14 January 2009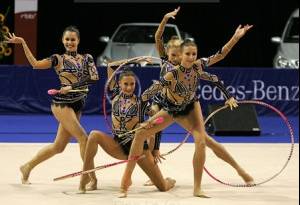 Gymnastics is not only a fun sport to practice and watch, but also an interesting sport to follow. With the number of disciplines and age groups involved, there's always something for everyone! We've set up this site because we're gymnastics mad and have all been infected by the gymnastics virus.
Lisa Deen, Anouk Wallenburg and Theresa Beijn took the initiative for the creation of our site. One is a fervent amateur sportswoman (gymnastics at GTS Stedebroec and acrogym at WRZV Landstede Zwolle); the second a gymnastics trainer for men at V&K Laren-Blaricum, and the third is mother to a professional gymnast. All three of us have, for some years, already been sports journalists and archivists, collecting articles, results, photographs and films about everything and anything concerning gymnastics. We, above all, regularly attend meetings and competitions. All in all, our interest in gymnastics has become no less than a full-time hobby.
Of course, the next logical step was a website. Our plan was for a specialist site for all that's going on in the world of gymnastics. Not only for men's and women's gymnastics, but also for all the other related branches of the gymnastics world which deserve attention, such as acrogym, 'rhönrad' or 'wheel'-gymnastics, jazz-dance, rhythmic sport-gymnastics, aerobics, baton twirling, streetdance, FitGym, ariel acrobatics, artistic pole dancing, cheerleading, jump rope (skipping), demo gym and many, many others.
During the production of our site we received enthusiastic reactions from many gymnastics fans, who also promised their help, providing us with photographs, news and tips for which we are very grateful. For a number of reasons it has taken some time and work in order to get the site online. Our thanks go out to site-builder Reiner ten Veen for his help and patience, and to the many GP fans for providing tips, text, photographs and news. It's all volunteer work and therefore plagued by false starts and miscalculations, but thanks to our dedicated efforts we're learning all the time. We hope that every gymnastics fan will not only enjoy Gympower.nl, but also share their gymnastics stories and experiences with us.
In the meantime, our team has gained a number of new members, providing their help to GYMpower. These are: Lizet van Eerden (aerobic gymnastics), Arno Diender (acrogym), and Anneke Ausma (women's gymnastics). Special thanks go to the Communication and Marketing Department of the Royal Dutch Gymnastic Union (KNGU), and to rhythmic dancer Anna Pobokova for the management skills provided. Also, World Pole Dance Federation, NSFAP (Pole Dance), Flik-Flak's Hertogenbosch and the board of the Gymnastics Veterans Brigade (Veteranenkorps) KNGU should receive special thanks. We hope for your continued support, and that many more individuals, clubs, leagues and institutions will join us to help provide gymnastics news and reports for us and our fans.
By means of this site we hope to demonstrate the beauty and diversity of gymnastics, and that gymnastics is one of the most reputable sports in The Netherlands deserving our full attention. If you have tips, suggestions or ideas for Gympower.nl, don't hesitate to mail us at:
info@gympower.nl